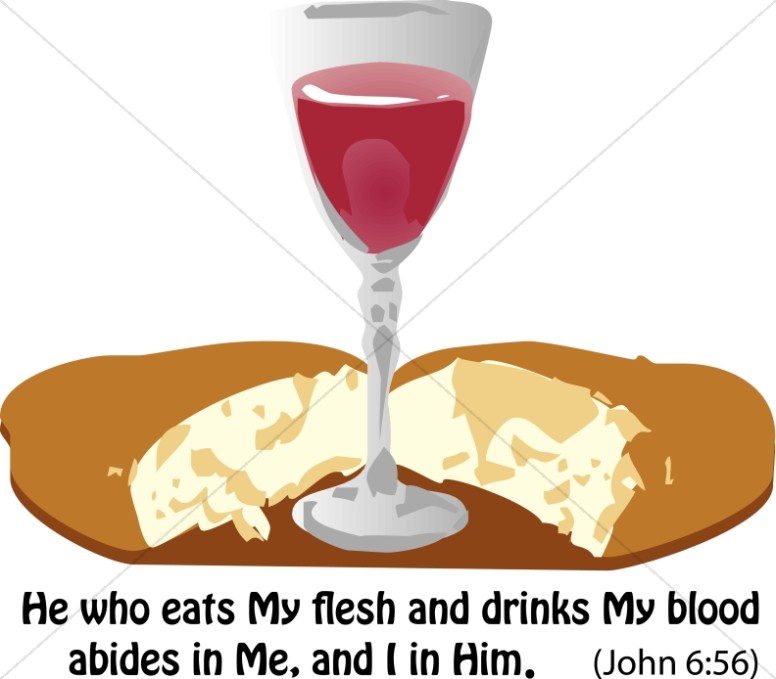 "I am the bread of life. Your ancestors ate the manna in the wilderness, yet they died.
But here is the bread that comes down from heaven, which anyone may eat and not die.
I am the living bread that came down from heaven. Whoever eats this bread will live forever. This bread is my flesh, which I will give for the life of the world."
(John 6:48-51)
The Greek word for communion is koinonia (koy-nohn-ee'-ah). And it means intimate partnership and fellowship.
This is a description of the covenant we have entered into, the right to exchange all that He has, and all He is for all we are (sinful) and receive all we are to become in Christ (His righteousness)! In true covenant understanding, we understand Jesus has already provided all of this on the cross. The decision has already been made. All we need to do to access it is to receive it by faith (believe it.).
Jesus said, "I am the way, the truth and the life!" (John 14:6) Then He said in John 10:10b, "I have come that you might have life and that you might have it more abundantly!"
Greek for life in both verses is Zoe (zo-ay'), meaning growing in the life that is the highest and best of which Christ is, the life of Jesus in us.
Jesus is telling us that He came to give each of us the best of who He is. His will is that we experience His life to the full.
As we take communion, keep this in mind. I pray this Holy Communion will become alive for us, because we are growing in a deeper understanding of this blood-covenant meal that seals the covenant.
Communion is so powerful Paul describes it in 1 Corinthians as "The cup of blessing which we bless, is it not the communion (mixing) of the blood of Christ? The bread which we break, is it not the communion (mixing) of the body of Christ?"
Communion is the joining of our body and blood to His. We are born again (a new birth) with His DNA instead of the DNA of Adam.
The cup of blessing! In both the Hebrew and the Greek, blessing means: empowerment for success, great prosperity and an attitude of joy because of it.
Let us celebrate Jesus and His finished work on the cross as we partake of communion today.
Blessings on your day,
Karen